What is a Mud Pie Bake Off?!
This is a celebration for all who like to play outside and want to support children playing outside as part of their early childhood education.
We'll gather and enjoy art activities by Frog Stomp Art Studio, music by Allegro: lively music for children, seed ball making with Let Us Compost a porch sale by Nancy Lendved, founder of A World Away market, and other family-friendly activities! There will be food and drink for sale and a raffle of awesome local goods.
10:00 Enjoy making seed balls, wall hangings, painting on our mud canvas, face painting, bubbles, and more (ongoing throughout the event!)

10:30 Mud Pie Competition starts

10:45-11:15 Music by Allegro: lively music for children

11:30 Mud Pie Competition ends

11:45 Mud Pie Competition awards

12:00 Kids' speed mud pie event

12:15 muddy dance party at the stage!

12:45 raffle drawings

1:00 event ends
The contest
Consider registering to be in the contest if you have a flair for art, messes, or competition! Sign up now to get muddy, show off your creative skills, or remember your own childhood- all while helping raise money to support AFK Connects, our work dedicated to share the benefits of nature-based early childhood education with teachers, parents, children, and others throughout the community.
Participant Guidelines and Rules
The Mud Pie Bake Off is open to all ages, and you may register at one of the following levels:
Individual, $10.00:

Individual bake off participants should be ages 15 and up, and ready to create their own personal masterpiece!

Family, $15.00:

Families of all sizes are welcome to join the Mud Pie Bake Off. Children and adults of any age can participate, but all participants should be from one family.

Group/Organization:$25.00:

Do you have a group of friends or perhaps co-workers who want to join? Pick this level and enjoy a day of mud-making together! Groups of children under 15 years of age should be accompanied by one adult for every 5 children. Groups are limited to 6 participants, please.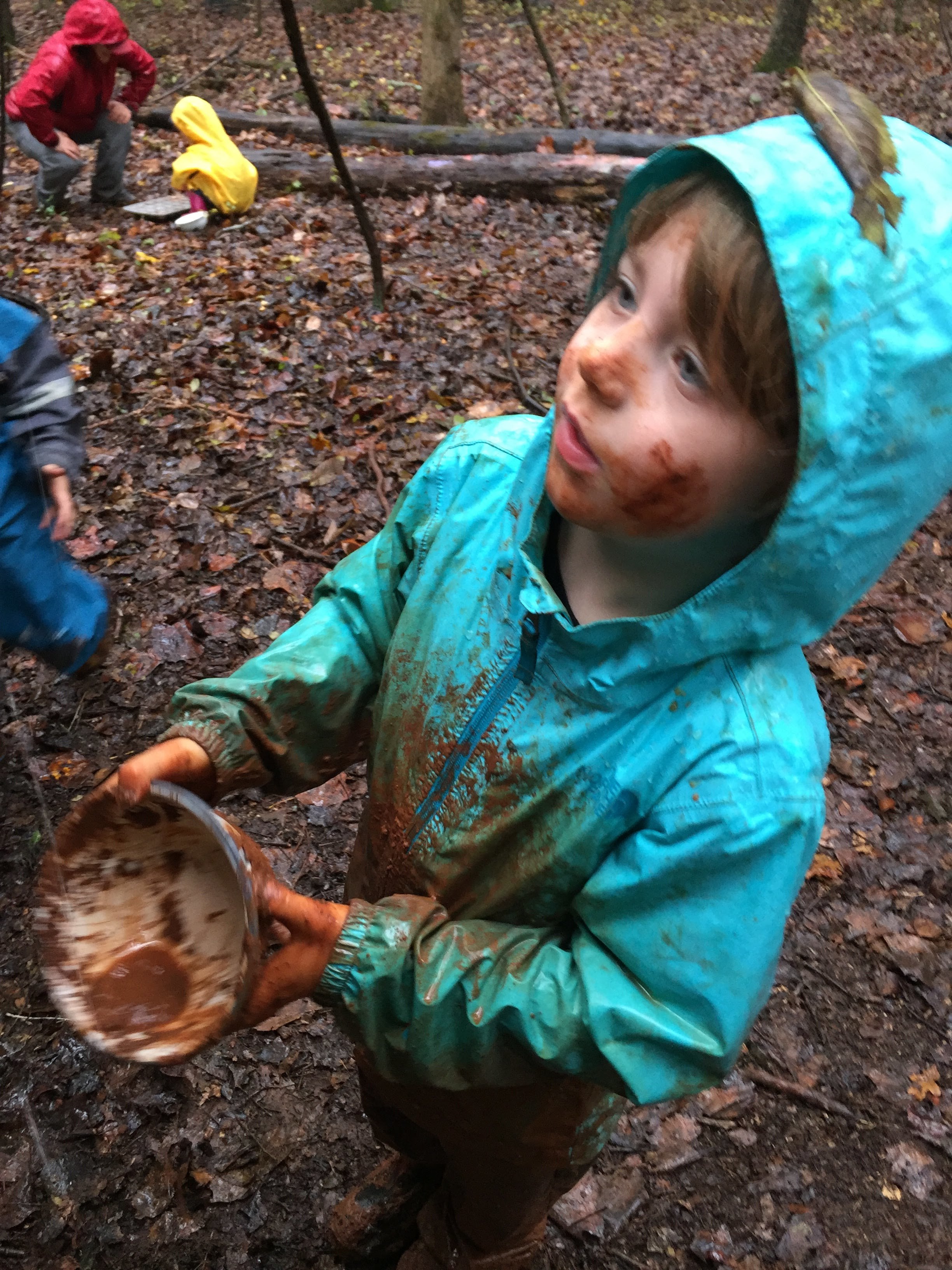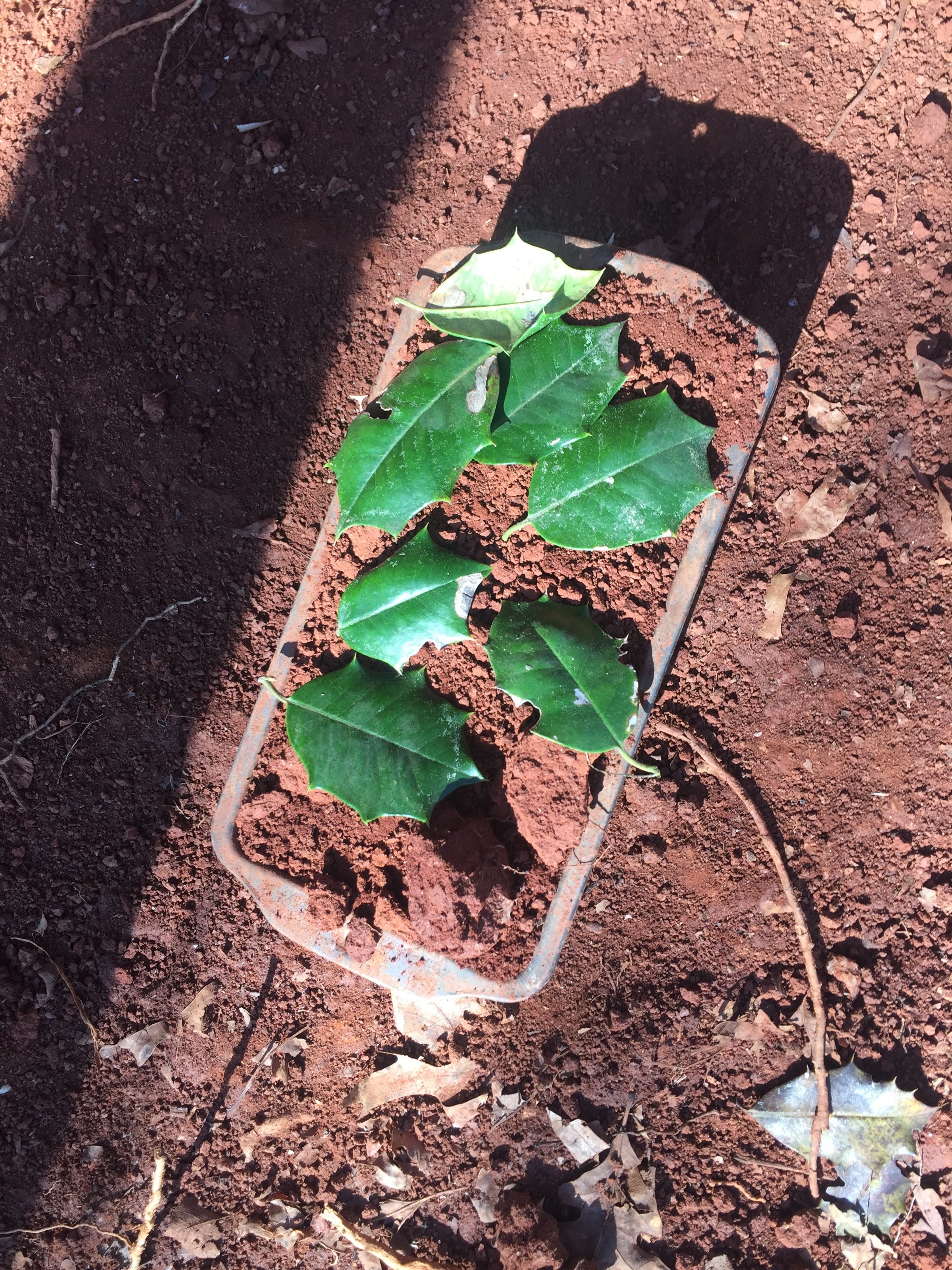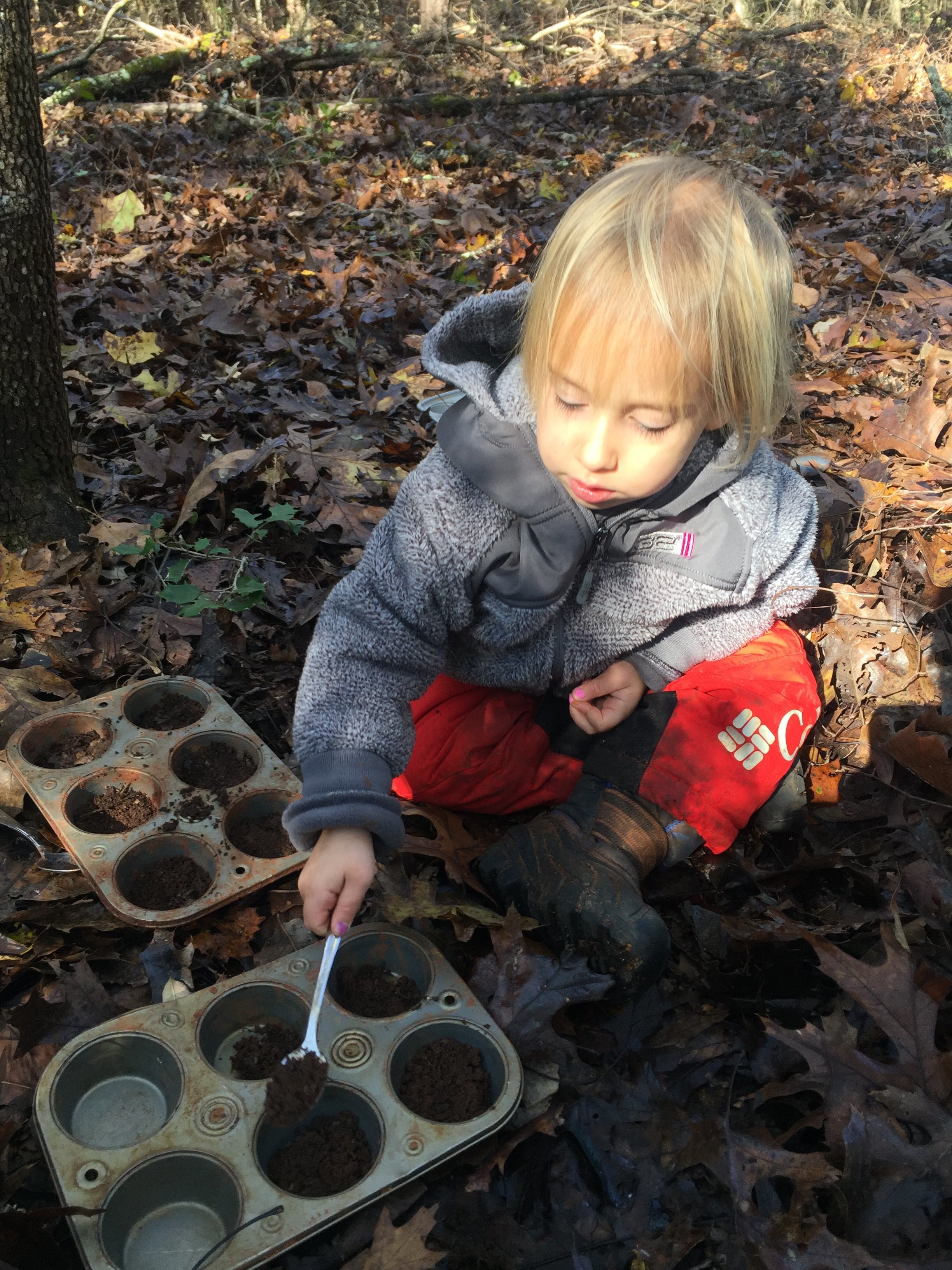 Our forest kindergarten students, above, have been working hard on their mud pie skills all year!
Participation Rules:
All participants are asked to be good sports, and interact warmly and kindly with other participants and any on-lookers watching their process. Remember, this is a fun, celebratory event!

Athens Forest Kindergarten will provide participants with one round pie pan for their mud pie. Participants may bring their own pie tins, muffin pans, bread pans, and other bakeware for making more elaborate designs. Participants may also choose to "hand-raise" their pies, and not use any bakeware!

Athens Forest Kindergarten will provide dirt, sand, water, and mixing containers for making mud on-site. We will also provide a few select natural objects for decoration, like pinecones, rocks, and dried flower petals. Participants may bring their own decorations to supplement, as long as they are a natural material, responsibly sourced. Please do not pick flowers from a public park or bring plastic decorations for your mud pie!

Participants should plan to arrive at 10:00 am to receive their materials, get assigned to their baking spot, and receive any final directions. The bake off will be held from 10:30-11:30 am.

Participants will have 1 hour to make and then given a few moments to present their mud pies to the judges publicly. Pies will be judged at the end of the hour on their creativity, beauty, structural interest, and use of natural materials. Prizes will be given to the winners!
Ready to enter?
Registration is now open! After you fill out your information and pay, we will contact you with confirmation of your registration, directions to the venue, and other details participants will need to know!